The Story and Last Days of Doug Tourney
Doug Tourney had ALS. He was a Jewish member of The Church of Jesus Christ of Latter-Day Saints.
Doug Tourney was also one of the most inspiring men we have ever met. He had no guile, no ego, no complaint, just faith.
When a B'nai Shalom (Mormons and Jews) gathering invitation postcard mailed to him at a Utah address came back, we contacted him by email, and in the exchange, he said he was now in Seattle. So we told him we were starting a Seattle chapter. His email response was something like "Whoopeee, zipidy dog, zippidee happy day, we have B'nai Shalom here."
Allow us to tell you his story now. He was from a Jewish family of North Seattle. They had left Hungary under fear of indications of the Shoa starting. (He was glad to tell us that he had done his family history.)
He joined the Church while in the Army in Germany. When he got out of the Army, he worked for some months on the Seattle temple grounds, which he told about with expression of pleasure. Leaving that, he went to Utah. He attended B'nai gatherings for about two years. Some of you have met him there.
But then he developed ALS. After a few months, his family brought him back to Seattle. He was in an apartment tower near Seattle's Swedish hospital when I met him. He had a rotating set of full time caregivers.
Doug had such a sweet and positive unforgettable disposition. In spite of being incapacitated with a dead-end disease, on oxygen, and hardly being able communicate enough to be understood, he was totally happy and engaging. His caregivers were all impressed with his disposition and faith, and all were in support of it, in heavily non-LDS Seattle.
He eagerly told me how much he enjoyed B'nai Shalom in Salt Lake City and was joyful that he could plan to attend a gathering in Seattle.
One of his caregivers (nonmember) did bring him, in October 2013. They both enjoyed the talk, the food; the entire proceedings.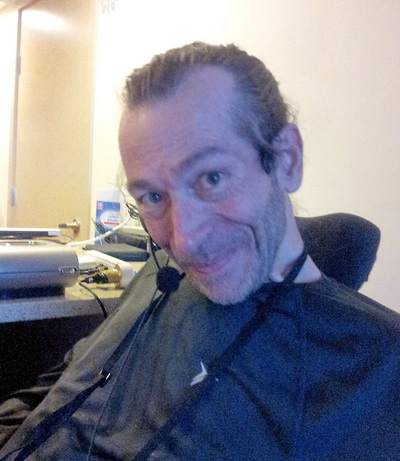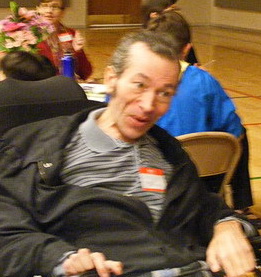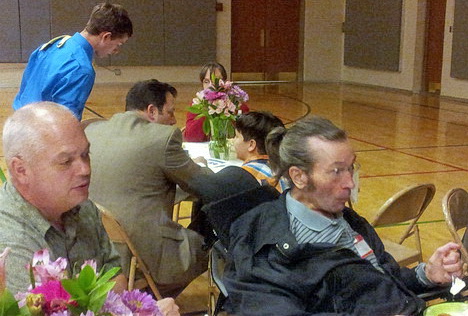 Doug wanted to go to the temple for his birthday. He was definite that he was going to make that happen. Being at the temple was the only birthday present he wanted, and that: intensely. And he did make it happen! Fortunately one of his caregivers was LDS.
In sight of the temple and on arrival at the front, he had great glee. Inside, he might be the most incapacitated person who has attended the temple, but he was totally taken care of by the kind temple workers, and he was so very happy. When we came together outside, he was so joyful at having that spiritual experience, and expressed that with our friends.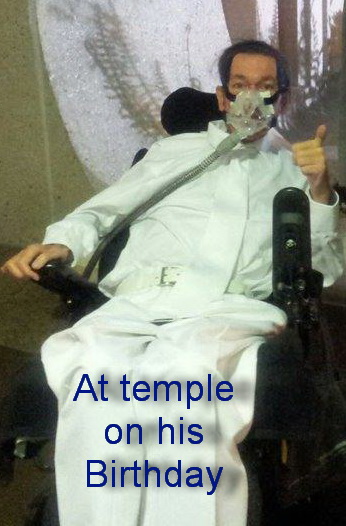 Sadly, that was Doug Tourney's last birthday.
After a couple months, I tried to contact him again, then we worked out that he was within the Elliott Bay ward boundary. The Elliott Bay Bishop told us that Doug had passed away.
We found his nonmember Jewish sister in North Seattle. She said that he was buried in Haifa, Israel. She told us she was pleased that he had been so totally happy with his faith. Unfortunately we have lost her contact info.
<-><-><-><-><-><-><-><-><-> 
ALS is unpleasant to witness, because the person has a completely active and clear intellect, but control of his body goes from very little to virtually nothing. We went through the last two years of ALS life with a prior co-worker "Rob"; unfortunately Rob had no faith and was most unhappy and unaccepting.
Doug went through all of that, remaining pleasant and completely accepting his life and fate, knowing that he had a great life ahead of him. He definitely had great faith; a solid belief, an inspiration.
<-><-><-><-><-><-><-><-><-> 
We wish that all would as pleased with the Faith, and have that inner joy; to be as passionate about what it offers us from beginning to end as Doug was. Doug knew.
Can we each be as fervent and definite about the great blessings of coming to the temple and letting it truly run through us. As Doug did, so can we have great spiritual feelings and learning there.
We can each of us be at peace with what that life and the Lord asks of us, and as kind to each other as Doug was even when he had those circumstances not of his choosing.
Thank you, Lord, for walking with him, and for thy temple being there for him. Thank you, Elliott Bay ward, for looking after him and being aware.
Thank you, Doug, for your life, your faith, your inspiration, your love of the temple, and your love for B'nai Shalom. We are deeply privileged to know you for a short time, and will not forget you.