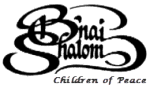 B'nai Shalom
Jewish Mormons and Interested Friends
Jubilee Year (50 years) 2017
Dr. D. Kelly Ogden,
Speaking on the History of the BYU Jerusalem Center
Thursday, Sept. 28 2017, 6:00 PM


(the Thursday before General Conference)
in the Pioneer Stake Center,
1401 W 700 S, Salt Lake City, UT 84104


Please join us for an evening
of Israeli/Jewish Dance, Fellowship and Food, Jewish/LDS Inspiration and Music
NEW: Come at 6 PM and enjoy the Israeli/Jewish dance instruction.
The noshing begins about 6:40 PM.
Coming? Please volunteer to help...

We ask our B'nai community to plan on helping, so these events will run smoothly, pleasantly and on time, and it all will be easier on all of us. PLEASE come to this link: https://goo.gl/mQM8Qn to find a task to sign up for, or respond to IWILLHelp@mormonsandjews.org.
Dr. Ogden, our fireside speaker, is an Emeritus Professor of Ancient Scripture. In the 1980s he served as president of the Jerusalem Branch in Israel. For 14 years he helped administer BYU's study programs in the Holy Land and guided students on field study trips all over Israel/Palestine, the Sinai, Egypt, Jordan, Turkey, and Greece.
More from his bio:

He is the author of numerous books, some with Andrew Skinner and/or David Galbraith. For five years he helped prepare the LDS editions of the Scriptures. He served on the Gospel Doctrine Writing Committee. He has presided over the Guatemala MTC.

His articles have appeared in the Ensign, the Liahona (the International Magazine of the Church), the Church News, the Encyclopedia of Mormonism, and other LDS and non-LDS publications. He has also been a frequent participant in the BYU Television scripture discussions.

He has taught courses in Hebrew, Old and New Testament, writings of Isaiah, the Bible as literature, history of the ancient Near East, biblical and modern geography of the Holy Land, and more.

He has climbed Mount Sinai 18 times.
See much more in his BYU bio (https://religion.byu.edu/kelly_ogden).
You might find his recent article interesting: "Questions about Latter-day Saint Temples from a Jewess". It contains interesting insight. http://ldsmag.com/article-1-9012/.
Brother Ogden is the author of numerous books (see bottom of page) some with Andrew Skinner and David Galbraith (who also was director of BYU Jerusalem for 20 years.)
For five years Brother Ogden helped prepare the LDS editions of the Scriptures. He is now a sealer in the Provo Temple.
---
The usual evening format; see http://news.mormonsandjews.org/. The talk will be in the chapel; no recording will be made. A relevant PDF will be made available later for our members through the US and world who cannot attend. (We have over 1000 members world-wide.)
Coming up: High Holy Days
Rosh Ha Shanah (Sept 20-22)
Yom Kippur (Sept 29/30)
And Chanukah (Reclaiming of the Temple) (Dec 12-20)
Disclaimer: This Organization has no affiliation with the Church, does not represent the Church, receives no support from the Church, is not sanctioned by the Church in any way; therefore, its actions cannot be attributed to the Church. No Officer, Director, or member shall proselytize or act in any way that may be construed as having the purpose of proselytizing of descendants of Abraham in the State of Israel.
See our Mission Statement.
Books by Kelly Ogden, as illustration of his experience:
The Holy Land - A Geographical, Historical, and Archaeological Guide to the Land of the Bible (co-authored with Jeffrey R. Chadwick)
Where Jesus Walked - The Land and Culture of New Testament Times
Jerusalem, The Eternal City (with David B. Galbraith and Andrew C. Skinner)
Discovering the World of the Bible (with LaMar C. Berrett)
The President and the Preacher – Memoirs of a Mission President and Companion (with Marcia H. Ogden)
Pioneering the East (30 years' involvement in the Holy Land, 1972 – 2002)
Before You Get to Heaven (8 Mighty Changes God Wants for You)
Verse by Verse – The Four Gospels (with Andrew C. Skinner)
The President and the Preacher II – Memoirs of a Missionary Training Center President and Companion (with Marcia H. Ogden)
Verse by Verse: The Old Testament (with Andrew C. Skinner)
Loving Life: Lessons Learned from Heaven and Earth