October 2009 -Darius Gray
A Reflection of Humility and Patience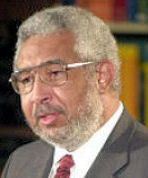 The keynote speech for this gathering was Darius Gray, first leader of the LDS Genesis group

Brother Gray discussed the history of the blacks in The Church, the implications of revelation, and some very interesting history.

More information of Brother Gray's presentation will be forthcoming.

First, it may not be known that there are a number of things occuring that deal with the mix of culture in The Church. Saints United Voices (with Gladys Knight) has made many appearances in the LDS world, including one attended by the author of this page in the Seattle WA stake. That event was followed by a fireside given by Gladys Knight's daughter.


https://www.youtube.com/watch?v=oFZUVLfN8Pk
This is a recently posted youtube by Darius, titled: "Blacks In The Scriptures".
A powerful lecture which takes evidence straight from the Holy Bible and traces the bloodlines of many persons in the Bible to Ethiopia, Egypt and other "black" areas...including Jesus Christ himself.