Rose Marie Reid,
Jewish LDS Missionary, 1950s fame as a Swimsuit Designer.
In 1950s America, Rose Marie Reid was a household name. She was born one hundred years ago today.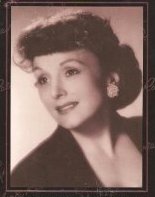 She invented the modern bathing suit. She owned the company that sold more bathing suits in the 1950s than any other. She was thanked by Marilyn Monroe as a major source of her success.
A member of The Church of Jesus Christ of Latter-day Saints, Rose Marie was known in Mormon circles for her proselytizing efforts among the Jewish people, some done in the 1950s in cooperation with LeGrand Richards. She wrote a series of missionary discussions aimed at Jews that was used church-wide.
She donated a significant sum to the construction of the Los Angeles Temple; the Relief Society sisters in the area hand-sewed thousands of sequins onto a bathing suit design that was so popular in 1954 that one would-be beauty queen stole it off of a mannequin. The sequin suit was designed and manufactured specifically for the profits to be given to the building of the Los Angeles temple. The Relief Societies sewed the sequins and they were responsible for thousands and thousands that were sold in the stores throughout the world.
She was responsible for a good portion of the shape and form of BYU today. She donated significant sums to BYU, spoke there often, worked with their marketing dept., etc.
She redesigned the temple garment at President McKay's request. She allowed her twelve-year-old daughter to go on vacation to New York City, alone, for a month. She refused to design immodest bathing suits.
She was an official, set-apart missionary for two decades, serving the church by sharing the gospel with everyone she met while running her stunningly successful business.
Her children lived for a few years in another country while she worked around the clock to establish her business.
Reid began her swimsuit designing career in Vancouver, British Columbia, Canada.. She designed bathing suits that looked good and started a new trend. Lacing up both sides was typical of her earliest swimsuits and a 1938 example is preserved at the New Westminster Museum and Archives in Canada By 1946 50% of the swimsuits sold in Canada were designed by her. Reid filed for a U.S. Patent in 1950 while living in Los Angeles, California, for a one-piece bathing suit using elastic fabric and lacked buttons. In 1955, Reid was named Designer of the Year by Sports Illustrated and Woman of the Year by the Los Angeles Times.
February 2018 update: This LDSMag article doesn't say a thing about her being a Jewish convert, yet to persons familiar with early Jewish frontrunners in the Restored Church of Jesus Christ, she is MOST familiar. The 2018 LDSMag article: How a Hollywood Fashion Designer Stood for Her Faith and Helped Shape Modern Temple Garments.
She, in short, lived an amazing life and may still be the most famous LDS woman ever.
She was poverty-stricken in her later years as her fortune was squandered by financial advisors whom she trusted too much.