We hosted a large attendance of old members and enjoyed meeting many new members. More pictures at the bottom....
As we ate, we were serenaded by the wonderful group that Julie Gardneer brought together. And the audience enjoyed singing two LDS hymns newly transcribed into Hebrew. Children played and danced to the music. Friends and "once strangers" enjoyed learning of each other's diverse backgrounds at the tables. This truely is a feature of B'nai Shalom.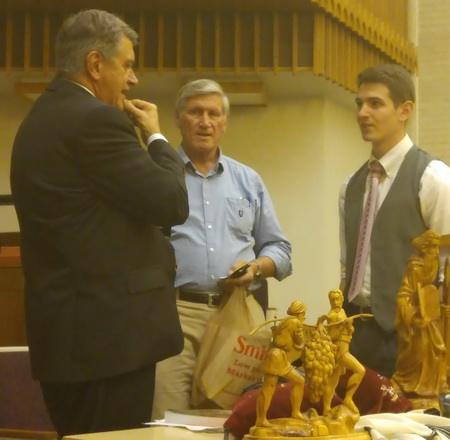 BYU Professor Brent Top
"They are not all Israel, Which are of Israel" (Romans 9:6)
Brother Top shared experiences and observations that he and Sister Top have had in BYU's program at the Jerusalem Center. He has recently re-visited Israel and the Jerusalem Center. He also spoke of how we can and should have "holy envy" of other faith traditions. He graciously fielded questions from the audience.
The term "Holy Envy" comes from Krister Stendahl. By this he meant that can respect elements in another religious tradition or faith and wish could, in some way, be reflected in our own religious tradition or faith.
Link to Professor Top's speaking notes.
You might read while listening. ->> Professor Top Notes. Audio (MP3) of his talk below:
Brief Bio: Brother Top is currently Dean of Religious Education at BYU and a Stake President. He served a full-time mission to the Denmark Copenhagen Mission. He received all of his degrees from BYU —a BA in history, a Masters degree in instructional media and a PhD in instructional science and technology. He held the endowed Professorship in Moral Education for two years prior to his call as President of the Illinois Peoria Mission (2004-2007). He was appointed department chair in June 2009.
Liz Graden was the dance teacher for this gathering, capably leading an enthusiastic group. ()Amanda Brown is continuing graduate work in Biblical Studies at the Hebrew University of Jerusalem.)
Over 170 attended this gathering. We look forward to continued growth and many more Spirit-filled evenings where we, His children, can join together to enjoy each other and the benefits offered in the fellowship of Judah and Joseph.
Lessons learned: There was a slight handicap of sound system changes that had been made and incomplete support of equipment. We are prepared for smoother operation in the future.
Our YouTube Channel has videos from this gathering: https://goo.gl/TDCAm0.
PLEASE subscribe so we can get a simple URL!
Books by Brent Top
Come and partake!
Please tell your friends about us, bring them to our gatherings. Help us to grow and to serve the Lord by bringing together today's generation of the 12 Tribes of Israel in fellowship and peace.