The speaker on April 3, 2008 was Mindy Jeppesen of Seattle, on the subject of:.
"Learning to Study the Scriptures All Over Again – Gospel Doctrine...Rabbinic Style!"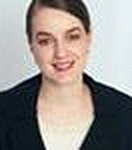 Sister Jeppesen gave an excellant presentation on layers of learning from the scriptures - becoming cognizant of various meanings that words might have, looking for meanings within the context of the areas the scripture was written and when it was written, and looking for use of the word in other scriptures to see what it meant when used there. Looking for symbolic meaning.

Not to distract from this good discussion in 2008, but the subject matter relates to the book released by Brad Kramer November 2014: "Beholding the Tree of Life: A Rabbinic Approach to the Book of Mormon (Contemporary Studies in Scripture)"

Sister Mindy Jeppesen received her Master's degree in Hebrew Bible from Harvard in 2006.

She received a fellowship to the Rothberg School, Hebrew University of Jerusalem 2004=2005 to pursue research in the Second Temple Period and continues to maintain her interest in scrolls research. BA with honors - BYU 2002.

At least at the time of her talk, she was teaching Hebrew at the Jewish center in Seattle. Later Sister Jeppesen and her husband were on the staff of the Puget Sound regional LDS Public Affairs committee.