Great Music, Great Turnout, Great Dance, March 2005...
The semi-anual gathering of B'nai Shalom was held on Thursday evening, March 31, 2005 at the historic Salt Lake Stake Center.
We began the gathering at 6:30 p.m. with a potluck dinner in the cultural hall. About one hundred eighty people were in attendance -- a larger crowd than usual. Food was abundant and the atmosphere convivial.
Cleon Skousen was in the audience with his wife, Jewel.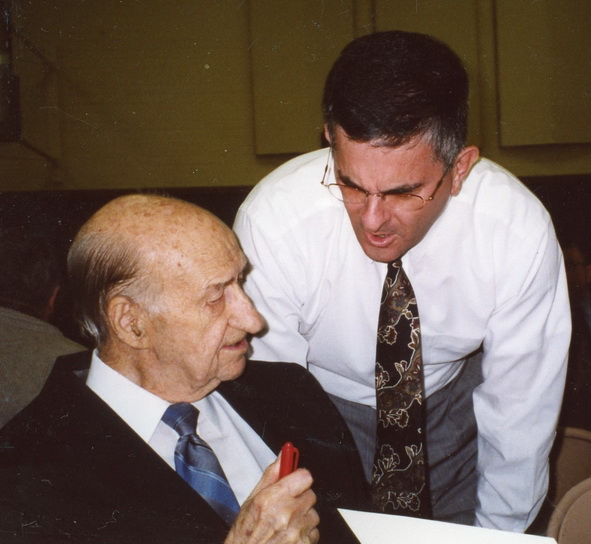 When everyone had eaten, we adjourned to the chapel for the presentation. The featured presenter was Marvin Goldstein, reknowned pianist and Jewish convert to the Church of Jesus Christ of Latter-day Saints. Marvin bore his testimony in spoken word and music. He gave the account of his conversion to the Church. He had been very resistant to the message that Jesus is the Christ, because of his Orthodox upbringing and the fact that family members had perished in the Holocaust.
Four years after his wife was baptised, Marvin was listening to a tape of a lecture by Cleon Skousen. Dr. Skousen told how, at his second coming, Christ would enter into Jerusalem through the Gate Beautiful, dressed in red as a symbol of his sacrifice. Marvin received a spiritual witness and soon joined the Church.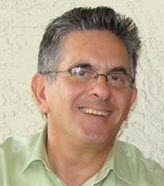 Marvin played a medley of Jewish, Israeli, and Arab pieces on the piano. Karen Larsen joined him, singing the Hebrew rendition of "Jerusalem of Gold."
Later in the program, Marvin played a medley of songs from Fiddler On The Roof. Karen finished the program with a moving Israeli song.
The Spirit was strong, as manifested in the way the congregation stood and enthusiastically sang "The Spirit of God Like a Fire is Burning" as the closing hymn.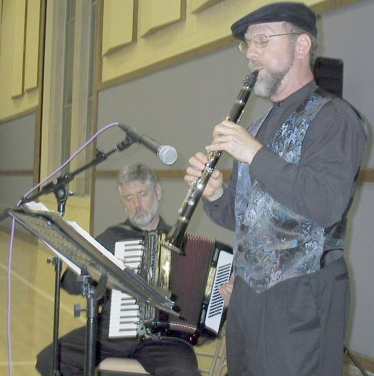 Then we gathered once again in the cultural hall for dessert and entertainment provided by KlezBros. David Asman of KlezBros presented historical information on the Jews of Utah and taught a Jewish and Israeli folk dances. The band also played while we visited and socialized.
It was a grand evening, full of camaraderie and fun, as well as inspiration.