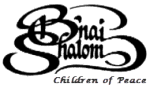 B'nai Shalom
Mormons with Jewish Lineage and Friends
Jubilee Year (50 years) 2017
Please join us for the next semi-annual evening
of Fellowship, Food, Jewish/LDS Inspiration and Music

Thursday, Sept. 28 2017, 6:00 PM


(the Thursday before General Conference)
in the Pioneer Stake Center,
1401 W 700 S, Salt Lake City, UT 84104


WEST of I-15, South of I-80.
Certain final details of the main presentation
are being discussed
before the speaker can be announced.
The usual evening format:http://www.mormonsandjews.org/events/. The talk will be in the cultural hall where we will again record main parts of the program on Youtube for our members through the US and world who cannot attend. (We have over 1000 members world-wide.)
Disclaimer: This Organization has no affiliation with the Church, does not represent the Church, receives no support from the Church, is not sanctioned by the Church in any way; therefore, its actions cannot be attributed to the Church. No Officer, Director, or member shall proselytize or act in any way that may be construed as having the purpose of proselytizing of descendants of Abraham in the State of Israel.
See our Mission Statement.
Books by Kelly Ogden, as illustration of his experience:
The Holy Land - A Geographical, Historical, and Archaeological Guide to the Land of the Bible (co-authored with Jeffrey R. Chadwick)
Where Jesus Walked - The Land and Culture of New Testament Times
Jerusalem, The Eternal City (with David B. Galbraith and Andrew C. Skinner)
Discovering the World of the Bible (with LaMar C. Berrett)
The President and the Preacher – Memoirs of a Mission President and Companion (with Marcia H. Ogden)
Pioneering the East (30 years' involvement in the Holy Land, 1972 – 2002)
Before You Get to Heaven (8 Mighty Changes God Wants for You)
Verse by Verse – The Four Gospels (with Andrew C. Skinner)
The President and the Preacher II – Memoirs of a Missionary Training Center President and Companion (with Marcia H. Ogden)
Verse by Verse: The Old Testament (with Andrew C. Skinner)
Loving Life: Lessons Learned from Heaven and Earth