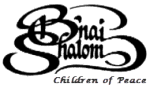 B'nai Shalom
Mormons with Jewish Lineage and Friends
Jubilee Year (50 years) 2017
Please join us for the next semi-annual evening
of Fellowship, Food, Jewish/LDS Inspiration and Music

Thursday, September 28 2017, 6:00 PM


(the Thursday before General Conference)
in the Pioneer Stake Center,
1401 W 700 S, Salt Lake City, UT 84104

The next speaker is not yet solidified.

The date is now solidified, because we now have a permanent home for the gathering.

Pioneer Stake Center

A ways WEST of I15, South of I80. 1401 W 700 S, Salt Lake City, UT 84104

The usual evening format:http://www.mormonsandjews.org/events/. The talk will be in the cultural hall where we will again record main parts of the program on Youtube for our members through the US and world who cannot attend. (We have over 1000 members world-wide.)

Disclaimer: This Organization has no affiliation with the Church, does not represent the Church, receives no support from the Church, is not sanctioned by the Church in any way; therefore, its actions cannot be attributed to the Church. No Officer, Director, or member shall proselytize or act in any way that may be construed as having the purpose of proselytizing of descendants of Abraham in the State of Israel.


See our Mission Statement.