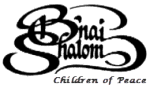 B'nai Shalom
Mormons with Jewish Lineage and Friends
Jubilee Year (50 years) 2017
Please join us for the next semi-annual evening
of Fellowship, Food, Jewish/LDS Inspiration and Music

Thursday, March 30 2017, 6:00 PM


(the Thursday before General Conference)
in the 19th Ward Building,
225 W 500 N, Salt Lake City Utah
We apologize for the sudden change.
It's just 3 blocks NNW
Our inspirational speaker will be Dr. Matthew L Bowen.

His talk will be based on his 2014 article "What Thank They the Jews"? (2 Nephi 29:4): A Note on the Name "Judah" and Antisemitism.

He holds an Assistant Professorship in Religious Education at BYU Hawaii. He teaches ancient and restored scriptures, is the recipient of six Nibley Fellowship Awards, and an frequent contributor to MormonInterpreter.com.

He is proficient in researching in numerous ancient languages. Two books are forthcoming.

Dr. Bowen is on the Advisory Board for Book of Mormon Central, the Board of Editors for Interpreter Foundation, and the Editorial Board for Journal of Book of Mormon Studies.

He is a student of etymology and onomastics (study of history and origins of proper names).

Be prepared with questions to ask: he looks forward to interacting with the audience.

Membership will choose our new presidency, effective April 1.
Candidates will present themselves in the earlier part of the evening.

A historical review of B'nai Shalom's first 50 years will be presented by Daniel Baker.
Those wishing to bear testimonies will be invited to speak
Please volunteer for various tasks to help the evening flow well and distribute the effort. Go to the Volunteer signup page for detail and sign up. (Scroll down that page for task area info and available slots.)
The usual evening format:http://www.mormonsandjews.org/events/. The talk will be in the cultural hall where we will again record main parts of the program on Youtube for our members through the US and world who cannot attend. (We have over 1000 members world-wide.)
Pesach (Passover): April 10-17 http://www.mormonsandjews.org/holidays/passover.html
SPECIAL NOTE: We are sharing the building with the Utah Special Needs Program (SNAP). They must use the parking area and entrance area on the east side of the building. There will be cones marking off their parking area and signs pointing toward the north end of the lot. (Please see

local map

at link below.) We ask that all B'nai members and guests park only on the North side of the cultural hall and enter through that north door. It is a straight walk to the kitchen.Our membership table will be at that door only. SNAP members will not use the kitchen, cultural hall or chapel.
Disclaimer: This Organization has no affiliation with the Church, does not represent the Church, receives no support from the Church, is not sanctioned by the Church in any way; therefore, its actions cannot be attributed to the Church. No Officer, Director, or member shall proselytize or act in any way that may be construed as having the purpose of proselytizing of descendants of Abraham in the State of Israel.


See our Mission Statement.