About the October 2nd 2014 Gathering of B'nai Shalom (Children of Peace) - Jewish Mormons
Our semi-annual evening of Fellowship, Food, Jewish/LDS Inspiration and Music
B'nai's October gathering was a resounding success! 170 of our members and their guests attended. They enjoyed our sumptuous dinner of home cooked baked chicken (yummy), matzo ball soup and chicken soup (VP Chelsea's concoction), lasagna casseroles and lots of pies made by a gourmet cook. Members contributed many wonderful dishes. Thank you!!!
Our guest speakers were Brother O. Hakan Palm (of Sweden) and Sister Bonny Harps.

Young Harry Howard
Bonny Harps, our first speaker, told of her father's conversion to our Church - the late Harry Howard (nee Harry Horowitz).
Our audience delighted in her story of his meetings with members of his synagogue when they held a trial to ascertain that he could no longer be considered Jewish if he joined a church. The trial continued for five years while he continued to teach Seminary and held other callings.
Her story is now here on this website.
---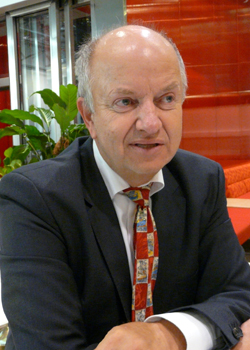 Brother Palm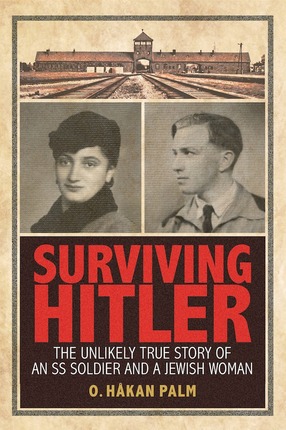 O. Hakan Palm, of Sweden, told of the amazing legacy left to him by his parents (German SS officer and Jewish mother) who met, married and joined our Church following the war in Germany.
His new book, "Surviving Hitler" is a testament to the saving power of the Lord.
Br. Palm illustrated dramatically their story for our audience. Truly, it was a fascinating experience for all who heard him.
His book, "Surviving Hitler: The Unlikely True Story of an SS Soldier and a Jewish Woman" is widely available.
A successful management consultant in Stockholm, Sweden, Håkan has served as a bishop, as a member of two stake presidencies, and seven times as a counselor in the Sweden Stockholm Mission. He and his wife, Barbro, are the parents of seven children. Håkan Palm livessix kilometers from Scandinavia's first temple and the first temple in Sweden. He was on the committe to find this place among the trees about two and a half miles south of Stockholmin 1981. He was there at the groundbreaking ceremony, and as head of the Church PA relations in the country. He organized an open house where almost 50,000 visitors came. Ten years later he arranged for the Swedish royal couple to visit the Temple Mount and meet with President Thomas S. Monson.
---
Also on our program was member Tal Lachmann's translation into Hebrew of LDS hymns I Stand All Amazed and Because I Have Been Given Much. Our members sang the transliterated format accompanied by the music of Julie Gardner's ward trio. It was a very spiritual event. We may continue this as Br. Lachmann contributes more translations.
In addition to these events, we held nominations for candidates who will run for election at our April 2015 gathering. Our elected Presidency and Board will then take up their new terms of office for two years. Response was very positive, further evidence that our B'nai Shalom family will continue for many more years to gather and celebrate our Jewishness and our membership in the Church of Jesus Christ of Latter-day Saints! We'll see you all in April!