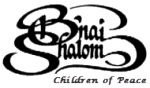 B'nai Shalom Since 1967
Jewish Mormons, Interested Friends
Genealogy Corner of B'nai Shalom
The thrill of discovery
We wish for all the joy of finding a new generation of names. This teaches us our heritage, our origins and our roots. Perhaps a great grandparent can whisper to us, 'Now I can be found'. This way we can honor and respect our ancestors by adding their names in their correct places in our family tree.
Family Search and various Jewish Geneology Societies have been working closely together.
You don't have to be Jewish or even to have Jewish ancestry to join a Jewish Genealogical Society. Some members are just interested in the subject matter. If your ancestors were from Eastern Europe and not Jewish, you might learn more from us than other US societies.
Utah Jewish Genealogical Society (http://ujgs.org)

A member of the LDS Family Search staff is the president of this oganization.

Home page: http://ujgs.org/blog/

Next Meeting: http://ujgs.org/blog/2018/02/12/call-to-meeting-february-27/
Jewish Genealogical Society of Washington State

Most JGSWS meetings are held at the LDS Factoria Building in Bellevue, with easy access from I-90 and I-405. The address is 4200 124th Ave. SE, Bellevue.

Home page: http://www.jgsws.org/index.php. Browse around.

Browse Handouts from some of the wonderful presentations.

Mary Kozy, of the Kent Washington stake, is a Jewish Genealogy specialist in the Seattle area. She is a member and past president, always an active organizer and presenter. She is very competent on genealogy methods and all aspects of technical internet use for this research. She has specifically presented many times on the DNA subject. Her e-mail:genmail@marykozy.net

Much more will be added to this page, but immediately, you will find good resources at the handouts page: https://www.jgsws.org/handouts.php

Here is one of the best: PDF of the excellant Presentation on surnames in the Russian Empire Owned by and residing on the Washington State Jewish Genealogical Society site
Plan for the summer International Jewish Genealogy Conference in Warsaw:

Early registration is now open! The conference will be held August 5-10, 2018, in Warsaw, Poland. See http://www.iajgs2018.org/ for more information.

Co-Hosted By POLIN Museum of the History of Polish Jews and Emanuel Ringelblum Jewish Historical Institute of Warsaw, In Cooperation With The Polish State Archives.

The reason why in Warsaw, by Robinn Magid, the most recent presenter (February 2018) at the Jewish Gen of WA.

Past international conferences have been in Seattle and in Israel.
Kahlile Bliss Mehr was one who had a big part in getting that started.

The following is from his bio when he spoke at Bnai in October 2016.

Kahlile worked in the Family History Department for 32 years and in the Church History Department for 3 years. For ten years he investigated genealogical records in East European archives to ensure the most valuable records were acquired for the Family History Library Collection. Concurrently, he investigated the early history of the Church in that part of the world.

Kahlile Bliss Mehr is a retired librarian and author. He has published over fifty articles or book reviews and authored: Hearts Turned to the Fathers: A History of the Genealogical Society of Utah 1894-1994, Mormon Missionaries Enter Eastern Europe, and "Tracing Your Jewish Ancestors" (http://feefhs.org/guides/Finding_Jewish.pdf). For BYU Studies, he wrote an extensive history of the development of Israel studies leading to BYU's Jerusalem Center, edited by Bnai Shalom here. And we find traces of his talent for Eastern European history in other writings.

Kahlile is a past member of the board of directors and coordinator of the IAJGS management sessions at annual conferences. Kahlile brought experience from serving on the board of The Federation of Eastern European Family History Societies (FEEFHS) to the IAJGS. Before his recent retirement, Kahlile was Manager of the Slavic Collection Management and Cataloging at FamilySearch. Kahlile fostered the IAJGS's relationship with FamilySearch which has been an ongoing sponsor of our annual conference and the sponsor of IAJGS LIVE! (conference video streamed and on-demand).

For twenty years he visited archives throughout Eastern Europe. He has often lectured at IAJGS conferences on genealogical sources and records availability and at the meetings of various Jewish Genealogical Societies.
Nechamas List
In The Past: Consultants Nancy, Robert

In past years, Nancy Goodstein Hilton has been the geneology specialist for the national/world wide organization of B'nai Shalom. Nancy has a particular wealth of experience in working with the Church (family history department and missions).

Robert Neu is a past president of the Jewish Genealogy Society, and is also available as a resource. Robert can give you history of Jewish migration in depth.
Guide for Ordinances Who You Can Do Ordinances For
Legacy Genealogy Pages How to do Family History, Etc. - By Charles Smith 2000
There are a great many articles on Family Search.